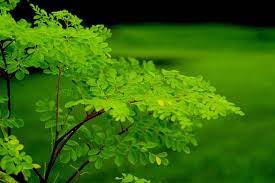 Phazama Farm has several farming goals. One of our goals is to become self-sufficient; we wish to live from our own land. We use natural farming techniques and all our produce will be organic. 
Moringa
We had several reasons for starting growing Moringa's.
First of all, Moringa is called the wonder tree, for a reason. Moringa is a plant that is native to areas of India, Pakistan, Bangladesh, and Afghanistan. But it grows nowadays also in other parts of the world like in Africa. The leaves, bark, flowers, fruit, seeds, and root are used to make medicine. 
Moringa is used as medicine for asthma, diabetes, obesity, symptoms of menopause, and many other conditions and is often called the wonder tree. Moringa is also an important food source. Because the leaves retain lots of vitamins and minerals when dried, moringa is used in India and Africa in feeding programs to fight malnutrition.
We researched and watched YouTube videos and we found out that Moringa trees are easy to grow. That is why also why we chose to grow them. Unfortunately it turned out that the conditions in Botswana are not the best for growing Moringas.
Our soil is very sandy, the sun is too hot during the major part of the year and the water we get from our borehole is not the best for growing trees. During winter it can freeze in Botswana and just one night below zero can kill the trees.
We are experimenting by putting the trees in different locations at the farm: in the sun, in the shade of other trees on richer soil, under shade net, etc. And of course we make our own soil. For now the trees in the shady areas are doing well. We also see a great difference in growth when it is raining instead of using the water from the borehole. Rain does miracles!
And last but not least, we want to create employment on the farm for our community by expanding the number of trees.
Now (May 2023), after three years of experimenting we have about forty small trees and could manage to make 100 grams of good Moringa powder. It is a start…
Recently we built another shade netted area to plant new trees after winter. It is worthwhile and that is why we keep going on. We are still learning and we see the positive results of that, We will succeed!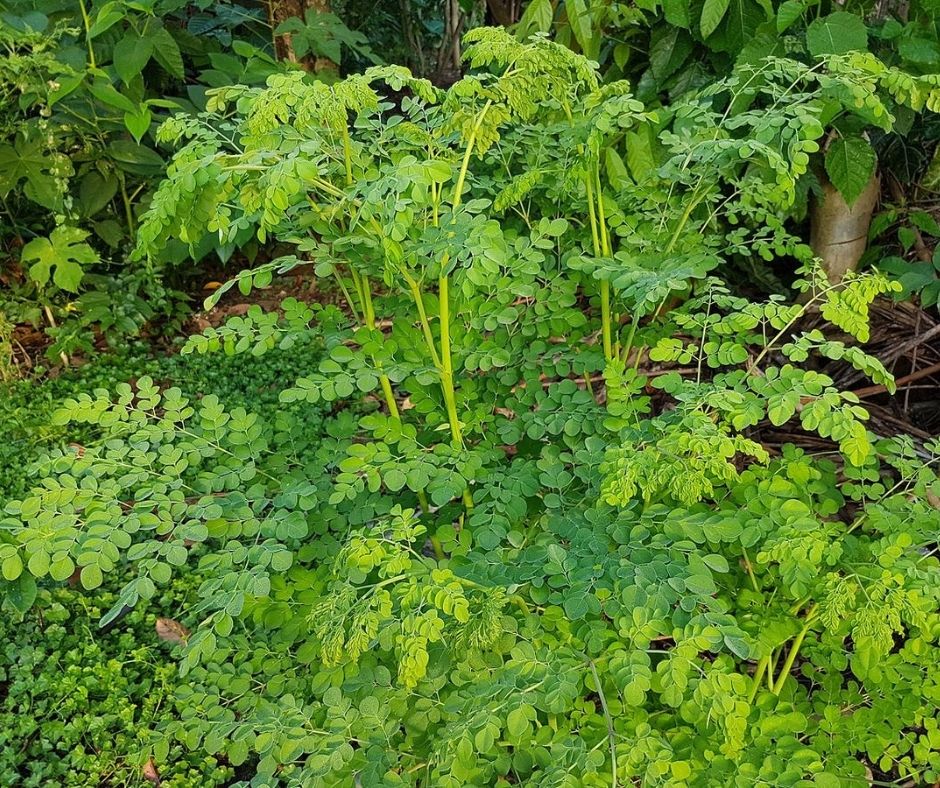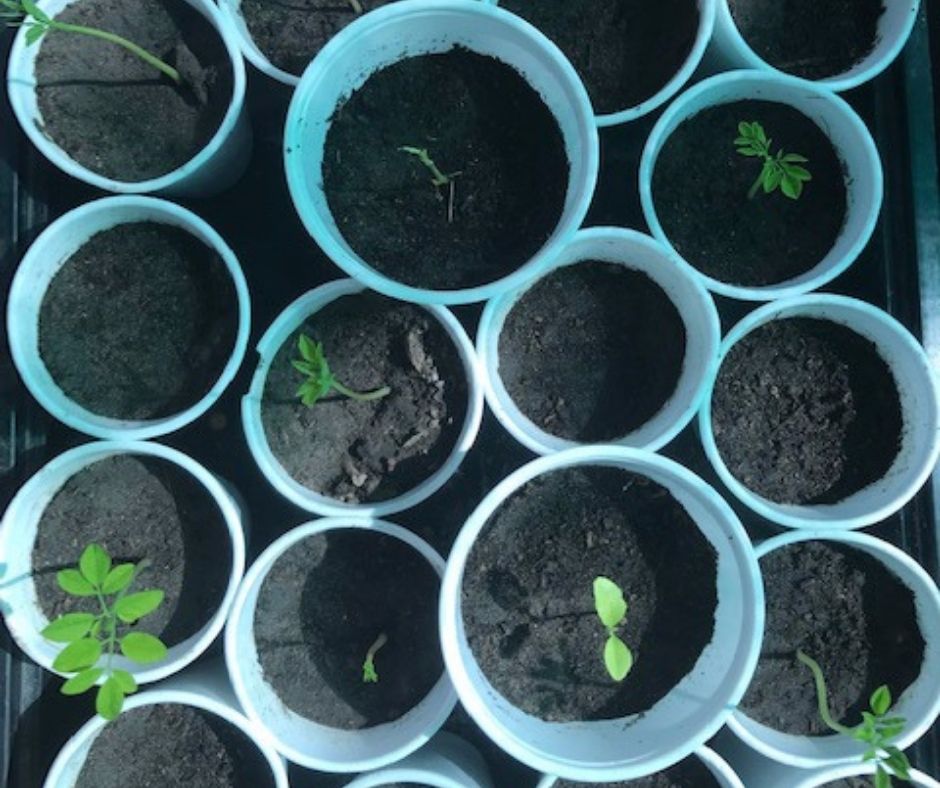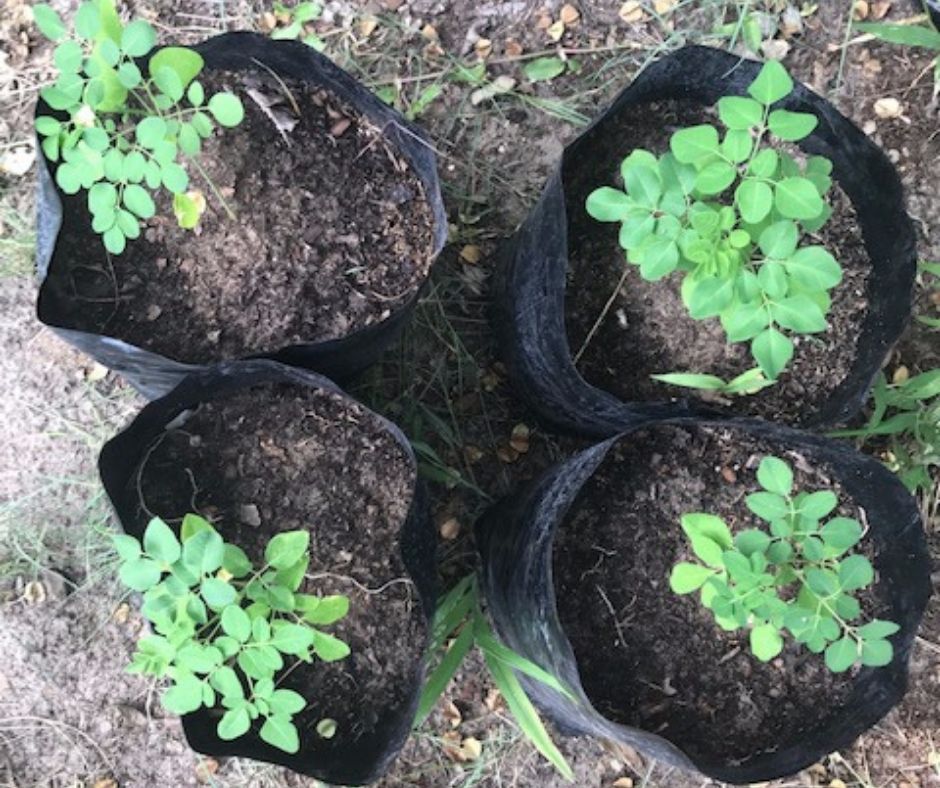 The story of our chickens…
It seemed a good idea to have some chickens around to have eggs for our staff and ourselves. We fenced a part of our farm and within that we built a kind of henhouse and we bought six chickens. It took a while before they started laying eggs, but then it went well for quite some time.
A python tried to get to them but got stuck and we had to save him or her. Sometimes the vervet monkeys or a mongoose got in and stole the eggs. But we still had our daily eggs. Until one day some honey baggers forced themselves into the henhouse and killed all the chickens…
For a while we did not have chickens, but we decided that we liked it very much and we built a new henhouse and bought new chickens. They seemed happy and started laying eggs. This time there were other predators from above like eagles and a wildcat who is living on the farm. And the chickens got killed again except for one we could save.
So now we have fenced and covered a big space and our one chicken 'Plukkie' is save and we are waiting for more to come soon.
Vegetables…
The best season to plant and harvest vegetables in Botswana is in winter. We (try to) grow different vegetables like tomato, rape, sweet potato, pumpkin, eggplant, beans, rocket, chilies and herbs.
As we also want to do this naturally we make our own compost, we plant in shady places and water a lot.