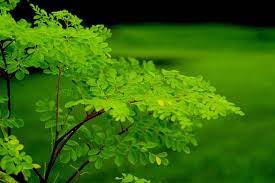 Phazama Farm has several farming goals. One of our goals is to become self-sufficient; we wish to live from our own land. We use natural farming techniques and all our produce will be organic. To support the welfare in our community we create job opportunities for local farmers by growing moringa for the community, ourselves and the market.
Moringa
Moringa is a plant that is native to areas of India, Pakistan, Bangladesh, and Afghanistan. But it grows nowadays also in other parts of the world like in Africa. The leaves, bark, flowers, fruit, seeds, and root are used to make medicine. Moringa is used for asthma, diabetes, obesity, symptoms of menopause, and many other conditions and is often called the wonder tree. Moringa is also an important food source. Because the leaves retain lots of vitamins and minerals when dried, moringa is used in India and Africa in feeding programs to fight malnutrition.
For all these reasons we grow moringa trees and our aim is to become the biggest moringa farm in Botswana.
It is said it can be grown cheaply and easily, but we have our challenges. Our soil is not the best, the tree needs lots of sun but the young trees don't. During winter it can freeze in Botswana and just one night to cold can be killing for the trees. Nevertheless we are learning and see the results of that, we will succeed.